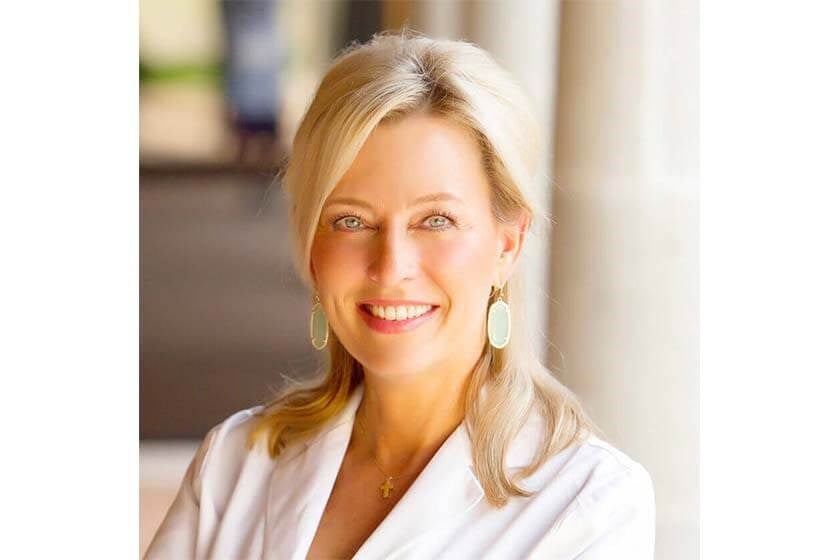 Please use this link to access Dr. Held's new Website:
Kristin Story Held, M.D. is certified by the American Board of Ophthalmology, a fellow of the American Academy of Ophthalmology, and a member of the American Society of Cataract and Refractive Surgery and International Society of Refractive Surgeons. Dr. Held is a Phi Beta Kappa graduate of the University of Texas at Austin where she was named "Outstanding Student." She received her medical degree from the University of Texas Health Science Center at San Antonio where she achieved membership in AOA, the national medical honor society. After completing her internship in Internal Medicine and residency in Ophthalmology at the University of Texas Health Science Center at San Antonio, she joined the faculty in the Department of Ophthalmology. There, she taught cataract surgery, glaucoma, refractive, eyelid, strabismus, trauma, and laser surgery to residents in ophthalmology for five years while serving as director of the county ophthalmology clinic at the Brady Green Community Health Center. She maintains an academic affiliation as an adjunct Professor of Ophthalmology at the university. Dr. Held started her private practice of ophthalmology and ophthalmic surgery in Stone Oak in 1994 and built the Stone Oak Ophthalmology Center at its current location on Sonterra Blvd. in 2005. She was overjoyed to be joined by brilliant, exceptionally trained, stellar physician, gifted surgeon, ophthalmology colleague and trusted friend, Dr. Allison Young, in 2012.
October 1, 2015, Dr. Held's practice became completely third party free, including opting out of Medicare. Instead of entering into contractual agreements with mega 3rd party corporations and government agencies, Dr. Held chooses to serve her patients first and directly, with personal, confidential, state-of-the-art, affordable, accessible care. You may be surprised to find the cost of office visits to be less than your copay and cost of services, including surgery, to be less than your commercial insurer's deductible in many cases. You are free to file with your insurer for out of network benefits. We can help you. Patients from across the state, U.S. and even other countries choose to see Dr. Held for their ophthalmologic care and surgery. Most importantly, if you do not have insurance, no problem, Dr. Held will care for you. If you are on Medicare, you can still choose to see Dr. Held for a reasonable fee; there is value in having an experienced physician who knows you, who serves you with personalized, private, high-tech care, and whom you can see in a timely fashion for the appropriate amount of time needed to fully address your individual condition and concerns. Dr. Held most sincerely and humbly regards caring for her cherished patients as her great blessing, privilege, and pleasure. She is proud to have cared for some of her patients for over 20 years now and treasures several families that she has cared for 4 generations of family members!
Dr. Held provides comprehensive eye care for a broad range of ocular diseases, Dr. Held specializes in cataract and refractive surgery, including state-of-the-art, all-laser LASIK (laser in-situ keratomileusis) and laser cataract surgery with premium intraocular lens implantation. Dr. Held has been doing refractive surgery and laser vision correction for over 20 years. She was one of the first eye surgeons to perform LASIK and PRK in San Antonio and is co-founder and co-owner of Alamo Laser Vision. She has years of extensive experience in performing these operations on thousands of patients with great success and loves serving the local San Antonio community with the most advanced eye care available.
Professional Accomplishments
Dr. Held is listed in "The Best Doctors in America," "The Guide to America's Top Ophthalmologists," and "Texas Super Doctors." In 2018, Dr. Held received the Lifetime Achievement Award from the National Association of Women Business Owners in San Antonio. Dr. Held was named the 2009 "Pillar of Responsibility" by the Northside Education Foundation. Dr. Held serves on the Medical Executive Committee at the Methodist Ambulatory Surgical Center North Central, is a physician partner at the surgery center, and holds privileges at the Methodist Stone Oak Hospital. Over the years, she has served as chief of staff of ophthalmology at the North Central Baptist Hospital, was a consultant for the Texas State Board of Medical Examiners, and authored numerous book chapters and articles covering topics from cataract, pterygium, glaucoma, diabetes, dry eye, allergic eye, and blepharitis to ocular blood flow and carotid vascular disease.
Dr. Held is dedicated to putting the patient first, preserving the sanctity of the doctor-patient relationship, and advancing the noble profession of medicine. Dr. Held is a physician and patient advocate for personalized, patient-centered, direct medical care. Dr. Held is currently President of the Association of American Physicians and Surgeons (AAPS) and has served on the AAPS Board of Directors for the past four years. The AAPS motto is "All For The Patient." She served on the healthcare advisory team for Dr. Ben Carson during his presidential campaign, is Co-Chair of the Healthcare Advisory Council for Congressman Chip Roy, is co-founder of AmericanDoctors4Truth.org, and served on the National Physicians Council for Healthcare Policy. She is active with a national coalition of physician, patient, and healthcare leaders from across the country promoting personalized, patient controlled medical care and opposing socialized medicine. Dr. Held has had numerous articles published, including in the Washington Times, Houston Chronicle, The Hill, Journal of American Physicians and Surgeons and Dr. Carson's AmericanCurrentsee. She has spoken across the country regarding health policy and its effects on patients, physicians, and the practice of American medicine, advocating for the patient-physician relationship and against the government takeover of medicine. Over the years, her comments have been heard on the Sean Hannity Show, the Cavuto Show, Operation Freedom, The Paradocs Show, Docs4PatientCare's The Doctor's Lounge, Chuck Woolery's Blunt Force Truth as well as locally on 550 KTSA. Dr. Held is committed to providing each patient with the best individualized, innovative medical care available and is fighting for the freedom to continue to be able to do so.
Dr. Held invites you to visit the website www.AAPSonline.org and join AAPS as a patient member free of charge. Here you will find a wealth of information about the current state of healthcare and what doctors and patients in Texas and across the country are doing to preserve personalized medical care and the doctor-patient relationship in the current environment of skyrocketing costs and increasing corporate-government interference.
Outside of medicine, Dr. Held's love is her family and the outdoors. She and her husband, David, have four daughters, Holly (and son-in-law, Kendal), Heidi (and son-in-law, John), Hayley (and son-in-law, Reid), and Hannah (and future son-in-law, John). Two of her daughters are physicians and two are in business. She is blessed with three adorable grandchildren. Her father is a retired chairman of neurosurgery, and her mother is a retired R.N. Dr. Held is blessed to be a seven year breast cancer survivor who is grateful for her amazing physicians and fights all the harder for her patients because of this and many other personal life experiences.
Reviews
"Dr. Held is an outstanding ophthalmologist! There is no other doctor like her in San Antonio!! She spends so much time with you and always goes beyond any other doctor I have seen. She is compassion, loyal to her oath, and is a true example of what a doctor should be. The wait time is worth it. So what that she is out of network....Most excellent doctors are!! This allows the government to stay out of medical health care."
V.
Healthgrades
"Really a very caring doctor. Would strongly recommend and have."
Anonymous
Healthgrades
"I highly recommend Dr. Held. Her conscientious and careful approach to her patients is followed by excellent skills and follow up. I highly respect Dr. Held I all respects and stress that she is an amazing woman."
Anonymous
Healthgrades
"Dr. Kristin Held is an excellent doctor and I have no reservation about giving her a very high recommendation. After injuring an eye, and all of the anxiety that goes with that, she put my mind at ease and put in motion the plan for full recuperation. She is thurough, has a very personable demeanor. Her staff is completely professional and on time.. Great parking."
R.E.
Google
"I'm always impressed by the expertise and kindness of the doctors and staff. Stone Oak Ophthalmology has taken care of my vision for 25 years. I started with Dr Held, now see Dr Young, and have been impressed by my recent visit with Dr Waters: 3 strong, brilliant and compassionate women."
D.T.
Google